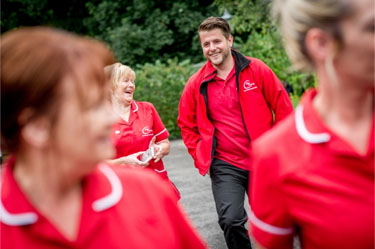 Professional Growth with our Social Care Training
Glen Caring social care training opportunities enable carers to have richly rewarding professions with plenty of career progression.
Social care is a hugely rewarding career. Carers improve the quality of life of others. Through their work, they develop valuable life skills and improve their job prospects through training.
Begin your Journey with Glen Caring Social Care Training
All our carers receive the opportunity to upskill with free tuition before they begin work, says HR Manager, Rhys McCaffrey. "Staff gain an NVQ level 2 Diploma in Health and Social Care, as standard. We also provide any further training that is necessary to meet the individual needs of service users in the community."
Are you a student seeking to get your foot in the door of social care? Or is your job affected by Covid-19 and you want to enter a new sector? With Glen Caring, you can train and develop professionally while you work.
Glen Caring, as Northern Ireland's leading Home Care service, is well-established as a leader in social care training. We've been caring in the community since 1995. Today we have over 300 staff providing care in over 1,000 homes in Tyrone, Derry/Londonderry and Antrim.
Rhys says all staff receive induction training, which is renewed annually. Staff have opportunities to get further accreditation and qualifications as they are needed.
In-House Staff Training
Glen Caring offers accessible in-house social care training for staff in all regions. Training covers a wide range of areas from manual handling and infection control, to dementia and medications.
These include the following:
● Glen Caring Policies and Procedures
● Infection Control
● Manual Handling
● Stoma and Catheter Care
● Effective communication
● Palliative Care
● Health and Safety
● Challenging Behaviour
● Abuse of vulnerable adults and children
● Medication
● Basic Food Hygiene
● First Aid
● Skin Care
● Recording and Reporting
● Fire Safety
● Managing Service User Money
"We encourage career progression at Glen Caring," says Rhys. "We have proudly watched care assistants begin their caring journey with us. Over the years, those carers charted an exciting path to become team leaders."
Carers can also avail of other areas of training when required.
Specialised Social Care Training
Specialised training options include:
● dementia training
● palliative care training
● brain injury
● trachea training
● epilepsy training
When equipped with these skills, carers can provide specialised care with dignity and privacy to service users in their homes.
"Social care is always changing," says Rhys. "Therefore, we always adapt our training programmes to provide the most up to date and the highest standards of care for clients."
While you're caring and learning, you'll also be enjoying the more immediate Glen Caring staff benefits. These include a competitive salary, working in a team of highly motivated people and in a flexible working environment.
Join Our Social Care Team
Home care has never been more important than it is today. Why not apply for a care assistant role in your area to contribute to this vital sector? Very soon you could be enjoying fulfilling work and continued professional development.
Visit our jobs page here to see our latest vacancies and take the leap into an exciting future in health and social care. For enquiries, you can email us at hrglencaring@gmail.com or call 028 82252666.
https://glencaring.com/wp-content/uploads/2023/01/Untitled-6-1.jpg
249
375
Kishan Vaghela
https://glencaring.com/wp-content/uploads/2022/11/glencaring-logo-lg-1.png
Kishan Vaghela
2023-01-20 13:02:00
2023-03-07 07:25:27
Professional Growth with our Social Care Training